Your roof can outlast the worst weather…
Connect with us today to find out more. Sales@rcchou.com
Ultimate Protection Against Weather
Hail, high winds, heavy rains, ice, snow, UV radiation, and thermal expansion from prolonged exposure to the sun can damage a roof. Meanwhile, home and business owners across the U.S. face over 5,000 major hail storms per year, with annual losses averaging between $8 billion and $14 billion.
Besides unmatched Class 4 UL2218 impact resistance hailstone protection, Euroshield's sophisticated locking system provides superior wind performance to other roofing materials. Add to that the increase of carbon black materials helps absorb damaging ultraviolet rays, and you're talking game-changing protection.
A Lifetime Investment in Quality
Wood or slate shingles help create curb appeal and give a home an old-world European elegance. But it comes at a considerable cost—and not just the price point. Real slate shingles are susceptible to damage and cracking, while mold growth from rain and other elements compromise wood and asphalt roofing material.
Nothing is as durable or able to withstand extreme weather conditions as tires. Euroshield® researched and invested in the best tire rubber to create our roofing materials. Traditional roofs last 12-15 years. Shake or Slate Euroshield® shingles can last up to 50 years in some of the worst weather events!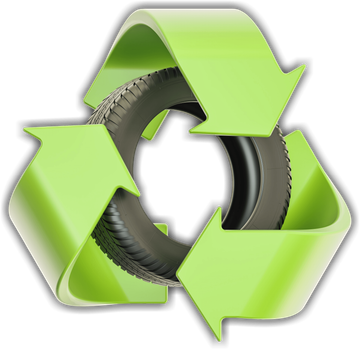 Sustainable Eco-Friendly Technology
'Going green' isn't just a catchphrase for us. All Euroshield® rubber roofs are manufactured from 95% recycled materials, with the highest quality virgin crumb rubber derived from recycled tires. Our shingles help reduce landfill waste while offering a roofing product that stands the test of time.
It is interesting to note that from 250 to 1,000 rubber tires are used to produce a Euroshield® roof for an average-sized home and that the scrap generated during the installation process can be collected and recycled again – virtually eliminating environmentally harmful waste.
Premium Roofing Without Compromise
Hail Proof Roofing
For many Americans and Canadians, a regular battering from hail is simply a part of life. It's the scourge of many homeowners, car owners, and insurance companies across the continent. According to the NOAA's Severe Storms database, there were well over 5,000 major hail storms across the U.S. in 2019. All areas from Texas to Washington state and the Midwest, southern Canada in close proximity to the Rockies, across to Maine and down to Florida are affected annually by large hail storms.
Total annual hail-related insured losses in the U.S. average between $8 billion and $14 billion over the past 20 years, according to insurer Aon. Hail can do tremendous damage to your property unless you've taken adequate measures to protect it – starting with a hail resistant roof. By selecting a Euroshield® roof, you are choosing the peace of mind that comes from knowing that nature can throw its most destructive forces at you and your home will still be fine.
What is a Hail Resistant Roof?
A hail resistant roof is generally considered to be able to withstand hailstones two inches in diameter or less without suffering damage. Two-inch hail is roughly the size of a standard egg.
All Euroshield® roofs are warrantied for this size of the hailstone. However, we have gone a step further and created hail proof roofing solutions that are proven to withstand impact from hailstones up to four inches in diameter (that's roughly the size of a softball). All of our products are warrantied for 50 years against hail of two-inches or less in diameter.
Euroshield® rubber roofing products are made of approximately 95% recycled material. These eco-friendly roofs can withstand extreme heat, wind, rain, snow, and yes, even hail. Our extremely strong, eye-catching and environmentally-friendly green roofing systems were born from years of intensive research.